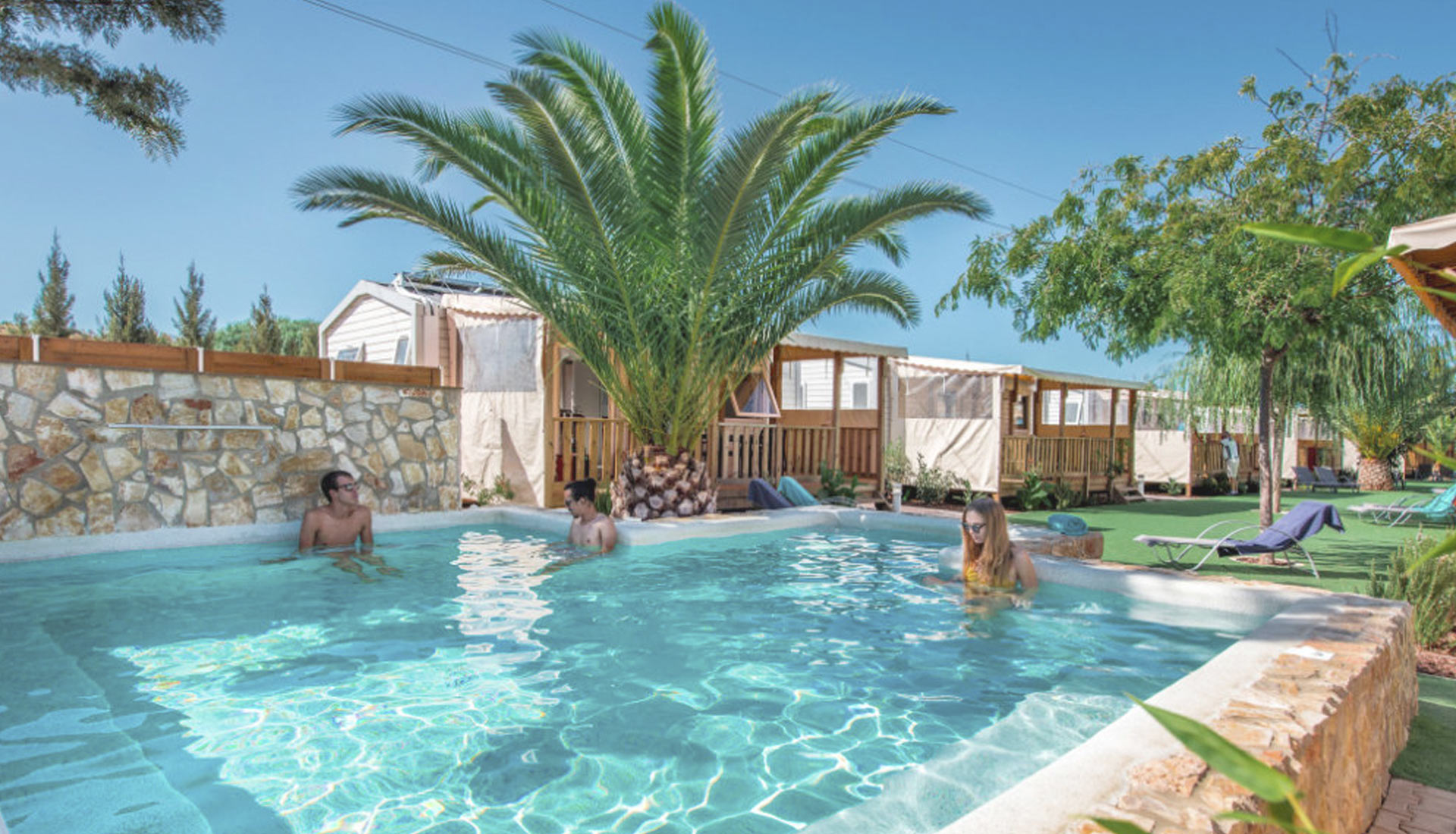 Protection and privacy policy

Protection and privacy policy
Data controller
Your data will be processed by Turiscampo-Sociedade de Empreendimentos Turísticos do Algarve Lda., with headquarters at EN 125, ESPICHE, 8600-147 LUZ LGS, corporate entity number 500427097, with the general telephone number (00351) 282 789 265, hereinafter "Camping Turiscampo" or "we". We are responsible for processing your data.
Legislation
The processing of users' personal data carried out by Camping Turiscampo and the electronic sending of commercial communications conform to existing national and Community legislation, Regulation (EU) 2016/679 of the European Parliament and Council of 27 April 2016 on the protection of individuals with regard to the processing of personal data and on the free movement of such data and guidelines issued by European and national authorities by model clauses approved by the European Commission or by authorities as well as by any relevant case law, collectively referred to as the "General Data Protection Regime", hereinafter "GDPR".
Processing of personal data
The processing of personal data is carried out in accordance with the general principles set out in the "GDPR", namely:
In the context of the relationship established with the subject of the data, we ensure that personal data are treated in a lawful, fair and transparent manner ('Principle of lawfulness, loyalty and transparency');
We collect personal data for specific, explicit and legitimate purposes and do not subsequently treat the same data in a way that is incompatible with those purposes ('Principle of purpose limitation');
We ensure that only appropriate, relevant and limited personal data are treated as is strictly necessary for the purposes for which they are processed ('Principle of data minimisation');
We take appropriate measures to ensure that inaccurate personal data, taking into account the purposes for which they are processed, are erased or rectified without delay ('Principle of Accuracy');
We retain personal data in such a way as to enable it to be identified only for the period necessary for the purposes for which it is processed ('Principle of Conservation');
We ensure that personal data are processed in a way that ensures their security, including protection against unauthorised or unlawful processing and loss, destruction or accidental damage, by adopting appropriate technical or organisational measures (Principle of integrity and confidentiality').
What personal data do we process?
In the context of the activities carried out by Camping Turiscampo, the Data Holder is, without limitation, the client and/or former clients, potential clients, investors, partners, candidates for a job, employees and former employees, employees of partners, suppliers and service providers and their employees, applicants and claimants, visitors and individuals captured in CCTV images and all those individuals who have a relationship with Camping Turiscampo and to whom the Personal Data relates.
Camping Turiscampo does not solicit nor voluntarily or directly collect personal data of minors. If Camping Turiscampo discovers that it has inadvertently collected personal data from a person under the age of 18, it will immediately delete the records containing the personal data of that minor. We note, however, that Camping Turiscampo may collect personal data relating to minors when provided by the parents or by a legal guardian who expressly consents to said collection or when collected through CCTV systems.
In carrying out its activities, Camping Turiscampo processes the Personal Data of a significant set of categories of Data Holders.
The Personal Data that Camping Turiscampo collects always depends on the nature of the interaction, but may include the following:
Personal and contact details: Name, surname, postal address, telephone or mobile phone number, email address or other similar contact information.
Commercial data for the provision of services and/or products, data related to the provision of services or supply of products, billing data, payment data and/or information in the context of answering any questions, requests or complaints.
Payment data: Credit/debit card numbers, security code numbers, or other related billing information.
Method of acquisition of or subscription to the products and/or services, their transaction, billing history and assistance in the context of the services of Camping Turiscampo used or any related information.
Security credentials data: User identification, passwords and similar security information required for authentication and access to Camping Turiscampo accounts.
Demographic data: Country, sex, age, preferred language, general education and professional background, as well as general interest data on work.
Preference Data: Information on the preferences and interests of the holder, insofar as it is related to the products and/or services and how they prefer to receive communications.
Data from social networks: Shared information on social networks in the interaction with Camping Turiscampo, where transparency is guaranteed through the existence of appropriate privacy policies.
IT usage data: user ID, roles, rights, time logged in, computer name, IP address.
Please note that you will not be required to share personal data with Camping Turiscampo. However, if you choose not to share your personal information, in some cases Camping Turiscampo may not be able to provide the services or products you want, ensure certain specialised features or respond effectively to any question you may have.
Why we process your information
The development and implementation of the various activities carried out by Camping Turiscampo means the existence of a relevant set of specific, explicit and legitimate purposes for the processing of your Personal Data, such as:
Client management
Supplier management
Administrative Management
Reservations, check-in, billing and payment
Pre-contractual and contractual management
Economic and accounting management
Commercial Activity and Marketing
Contact management
Marketing
Compliance with Legal Obligations
Transfer of data to third parties
What we process your information for
With reference to the "Principle of Lawfulness" laid out in the GDPR, in carrying out its activity, Camping Turiscampo only processes personal data when there is a legal basis for said processing, namely:
Consent Camping Turiscampo will only process personal data if said Processing is consented to through a free, specific, informed and explicit manifestation of will, by which it is accepted, by means of a statement (in writing or oral) or an unequivocal positive act (by completing a option), that the personal data will be subject to Processing.
Pre-contractual formalities or performance of a contract
Camping Turiscampo may process personal data if necessary, without limitation, to carry out a contract for provision of a service and/or supply of a product in which it is a part as an Employee, Customer and/or Supplier, or to perform pre-contractual formalities upon request.
Compliance with a legal obligation
Camping Turiscampo may treat personal data to ensure and guarantee compliance with legal obligations to which it is subject under the legislation of a Member State and/or the European Union.
Protective interests
Camping Turiscampo, other Data Controllers or Third Parties, may process personal data provided that such processing does not prevail over their interests or fundamental rights and freedoms.
How long do we keep personal data
Camping Turiscampo keeps personal data only for the period of time necessary for the execution of the specific purposes for which they were collected. However, Camping Turiscampo may be obliged to keep some Personal Data for a longer period, taking into account factors such as:
Legal obligations, under applicable laws, to keep Personal Data for a certain period;
Time limits under the laws in force;
(any possible) Legal disputes; and,
Guidelines issued by the competent data protection authorities.
During the period of Processing of your Personal Data, Camping Turiscampo guarantees that they will be processed in accordance with this Data Protection and Privacy Policy. Once your data is no longer needed, Camping Turiscampo will securely delete it.
Sharing of personal data
Personal data can be shared with companies in charge of providing Camping Turiscampo's services.
Companies entrusted with the provision of services are linked to Camping Turiscampo by written agreement, only being able to process personal data for specifically established purposes and are not authorised to process Personal Data, directly or indirectly, for any other purpose, for their own benefit or that of a third party.
Personal data may be shared internally with other Camping Turiscampo companies that will comply with the data protection rules applicable according to the purposes of the Processing carried out.
At your request and with your consent, personal data may be shared with other entities.
In compliance with legal and/or contractual obligations, Personal Data may also be transmitted to judicial, administrative, supervisory or regulatory authorities, as well as entities that lawfully perform data collection, actions to prevent and combat fraud, or marketing and statistical studies.
Cross-border transfer payment
Camping Turiscampo may transfer personal data outside the European Economic Area (EEA) to locations that may not provide the same level of protection.
However, Camping Turiscampo only transfers personal data outside the EEA:
Through binding rules applicable to the companies of Camping Turiscampo ("binding corporate rules");
When the transfer is made to a location or by a method or in circumstances that the European Commission considers to ensure adequate protection of your Personal Data;
When you have implemented standard data protection clauses adopted by the European Commission or a competent data protection authority; or,
When none of the above apply, but the law may still authorise such a transfer, for example if it is necessary for the declaration, exercise or defense of a right in a legal proceeding.
You may request detailed information on the security measures that Camping Turiscampo has implemented regarding personal data transfers outside the EEA and, where applicable, a copy of the standard data protection clauses in force at Camping Turiscampo via email at info@turiscampo.com
What are your rights?
As the Owner of the Personal Data processed by Camping Turiscampo, you have the right of access, rectification, limitation, portability, deletion and the right to object to the Processing of Personal Data, in certain circumstances, which may be exercised under this chapter of the Data Protection and Privacy Policy.
Right to request information
You have the right to obtain clear, transparent and easily understandable information on how Camping Turiscampo uses your personal data and what your rights are. That is why Camping Turiscampo makes all this information available to you in this Data Protection and Privacy Policy.
Right of access
You have the right to obtain information about which Personal Data Camping Turiscampo processes (if they are being processed) and certain information (similar to the ones provided in this Privacy Policy) on how these Data are processed. This right allows you to know and confirm that we use your Data in accordance with data protection laws.
Camping Turiscampo may refuse to provide the requested information whenever, in order to do so, Camping Turiscampo has to disclose Personal Data of another person or the information negatively impacts the rights of another person.
Right to Rectification
If your Data is incorrect or incomplete (for example, if your name or address is wrong), you can ask Camping Turiscampo to take reasonable steps to correct this.
Right to deletion of data
This right is also known as the "right to be forgotten" and, quite simply, allows you to request the deletion or removal of your data, as long as there are no valid grounds for Camping Turiscampo to continue to use them or your use is unlawful. This is not a general right to deletion, since exceptions are allowed (for example, where such data are necessary for the defense of a right in a legal proceeding).
Right to limit treatment
You have the right to "block" or prevent future use of your Data while Camping Turiscampo evaluates a request for rectification or as an alternative to deletion. Whenever the Treatment is limited, Camping Turiscampo continues to be able to store your data, but you cannot use them later. Camping Turiscampo maintains a list of the holders who have requested the "blocking" of the future use of their data to ensure that this limitation is respected.
The right to data portability
You have the right to obtain and reuse certain Personal Data for your own purposes in various organisations. This right applies only to your own Data that you have provided to Camping Turiscampo and that Camping Turiscampo processes with your consent and data that are treated by automated means.
Right to Opposition
You have the right to object to certain types of treatment, for reasons related to your particular situation, at any time during which this Processing is carried out, for the legitimate interest of Camping Turiscampo or Third Parties. Camping Turiscampo may continue to treat such Data if it can prove "legitimate reasons for the Treatment that override its interests, rights and freedoms" or if such Data is necessary for the establishment, exercise or defense in legal proceedings.
Right to complain
You have the right to complain to the competent control authority, the National Data Protection Commission (CNPD), if you believe that the processing carried out on Personal Data violates your rights and/or applicable data protection laws
You may at any time, in writing, exercise the rights enshrined in the Law of Protection of Personal Data and other applicable legislation through email at info@turiscampo.com
Security and confidentiality
The personal data will be treated by Camping Turiscampo, in the context of the purposes identified in this Policy, in accordance with the policy and internal rules of Camping Turiscampo and using appropriate technical and organisational measures to promote their safety and integrity, in particular regarding the unauthorised or unlawful processing of personal data and their accidental loss, destruction or damage.
Without limitation, Camping Turiscampo uses logical and physical security requirements and measures to ensure the protection of personal data by preventing unauthorised access; ensures that the information is stored on secure computers in a closed and approved information centre and that Data is encrypted whenever possible; implements auditing and control procedures to ensure compliance with security and privacy policies and periodically reviews our security policies and procedures to ensure that Camping Turiscampo's systems are secure and secure.
However, since the transmission of information over the Internet is not completely secure, Camping Turiscampo cannot guarantee the security of your Data when transmitted over an open network.
Camping Turiscampo acknowledges that the information you provide may be confidential. Camping Turiscampo does not sell, rent, distribute or otherwise make Personal Data available to any third party, except in cases where it needs to share information with the Service Providers for the purposes established in this Data Protection and Privacy Policy. Camping Turiscampo maintains the confidentiality and integrity of your Data and protects them in accordance with this Data Protection and Privacy Policy and all applicable laws.
Cookies
Camping Turiscampo uses cookies to collect information about the use of the website. Whenever you use the website, Camping Turiscampo treats the personal data collected through the use of cookies in accordance with our cookies policy. For more information about the use of cookies, we encourage you to read and review the Cookies Policy and regularly check it for the most up-to-date versions.
If you have any questions
If you have any questions or would like more information about how we treat personal data or our practices regarding information security, please do not hesitate to contact us at the following contact addresses: info@turiscampo.com
Modifications to this Data Protection and Privacy Policy
Camping Turiscampo may periodically update this Data Protection and Privacy Policy, as well as any other privacy and data protection and specific privacy declaration. When changes are made to this Data Protection and Privacy Policy, a new last updated date will be added.
Last updated: 25/05/2018